October 2015 Auction Ends Thursday, October 29th, 5pm Pacific
Stage Costume Worn by Michael Jackson at the 1986 American Music Awards Worn During the Performance of ''We Are The World'' -- With Julien's Provenance
Onstage performance suit Michael Jackson wore to the 1986 American Music Awards, where he joined an all-star ensemble in performing ''We Are The World'', the multi-platinum song he co-wrote with Lionel Richie for famine relief in Africa. Four-piece suit includes pants, jacket, metallic belt with diagonal chest strap, and shirt. Black and gold suit was custom made for Jackson by classic Hollywood costume house Western Costume. Military-inspired jacket features gold color hardware. Pants have a gold cord stripe down the sides and a Western Costume label sewn in, stating they are a size 28 and with Michael Jackson's name typed, along with ''2803-2''. Gold cord belt has a leather lining and features additional gold-color metal hardware as well as an adjustable over-the-shoulder strap. Shirt is by Fabio Inghirami. Save for Michael's makeup around the collar of the shirt, ensemble is near fine. Originally sold as lot 427 in Julien's 9 October 2010 auction.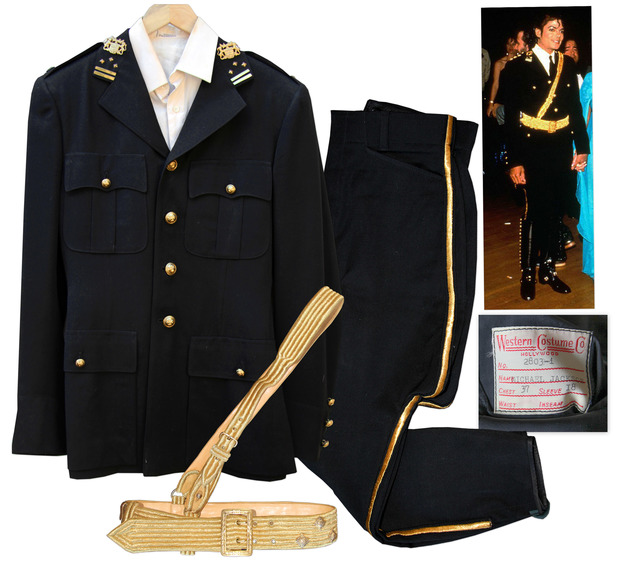 Black fedora stage-worn by the King of Pop, Michael Jackson, during his ''Victory'' tour in 1984. The 55 show tour, which began on 6 July 1984, would gross $75 million in profits (the highest-grossing tour of all-time at that point), and showcased Michael's crystal-encrusted glove, black sequined jacket and moonwalk. Another essential part of Michael's iconic outfit was his black fedora with feather accent. This particular fedora was worn on 17 September 1984 at Montreal Olympic Stadium. As stated in the accompanying provenance letter from the original owner, Michael came out for a solo performance of ''Billie Jean'' and tossed the fedora into the crowd. Black felt fedora has traditional crown and pinch with matching black ribbon and signature black, red & yellow feather attached to inside of bow. Sweatband reads in gilt, ''MADE EXPRESSIVELY FOR Michael Jackson / by Maddest Hatter Los Angeles California''. Sewn into the liner tip is an emblem for Maddest Hatter, complete with coat of arms. No size in indicated, but head space measures 8'' x 6.75''. Hat measures 12'' x 11'' x 5''. Lining and interior brim also have makeup and sweat stains from performance. Apart from interior performance stains, hat is in near fine condition. With a detailed LOA from the individual who got the fedora at the concert.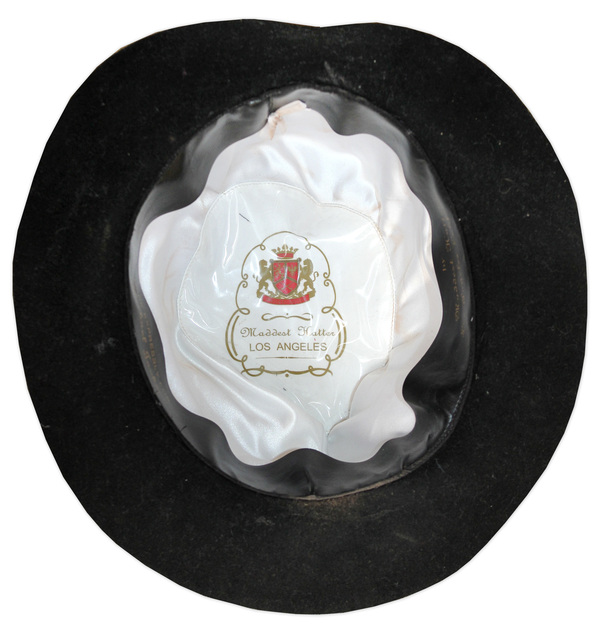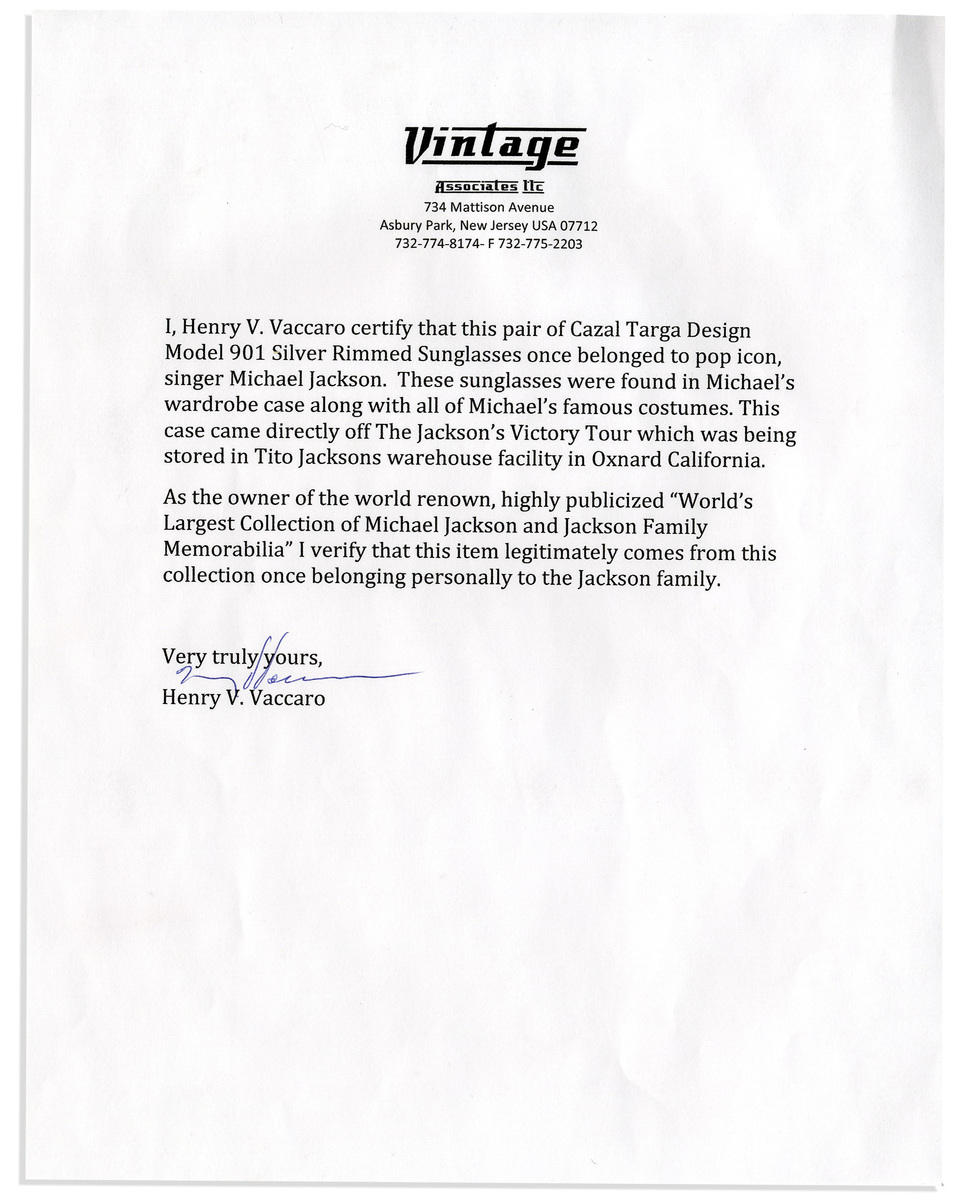 Michael Jackson personally owned sunglasses. Aviator sunglasses, Jackson's preferred style, were worn by Jackson during the ''Victory'' tour in 1984. On the heels of his ''Thriller'' success, Michael embarked on the tour with the rest of the Jacksons. Silver tone metal-rimmed glasses by Cazal Targa brand are Model 901. With a LOA from well-known Jackson collector Henry V. Vaccaro who states that these glasses came from Michael's personal wardrobe chest. Near fine condition.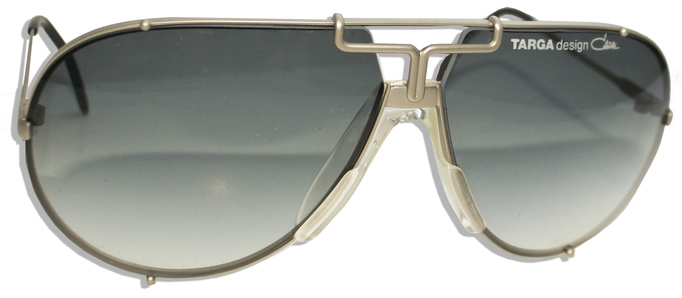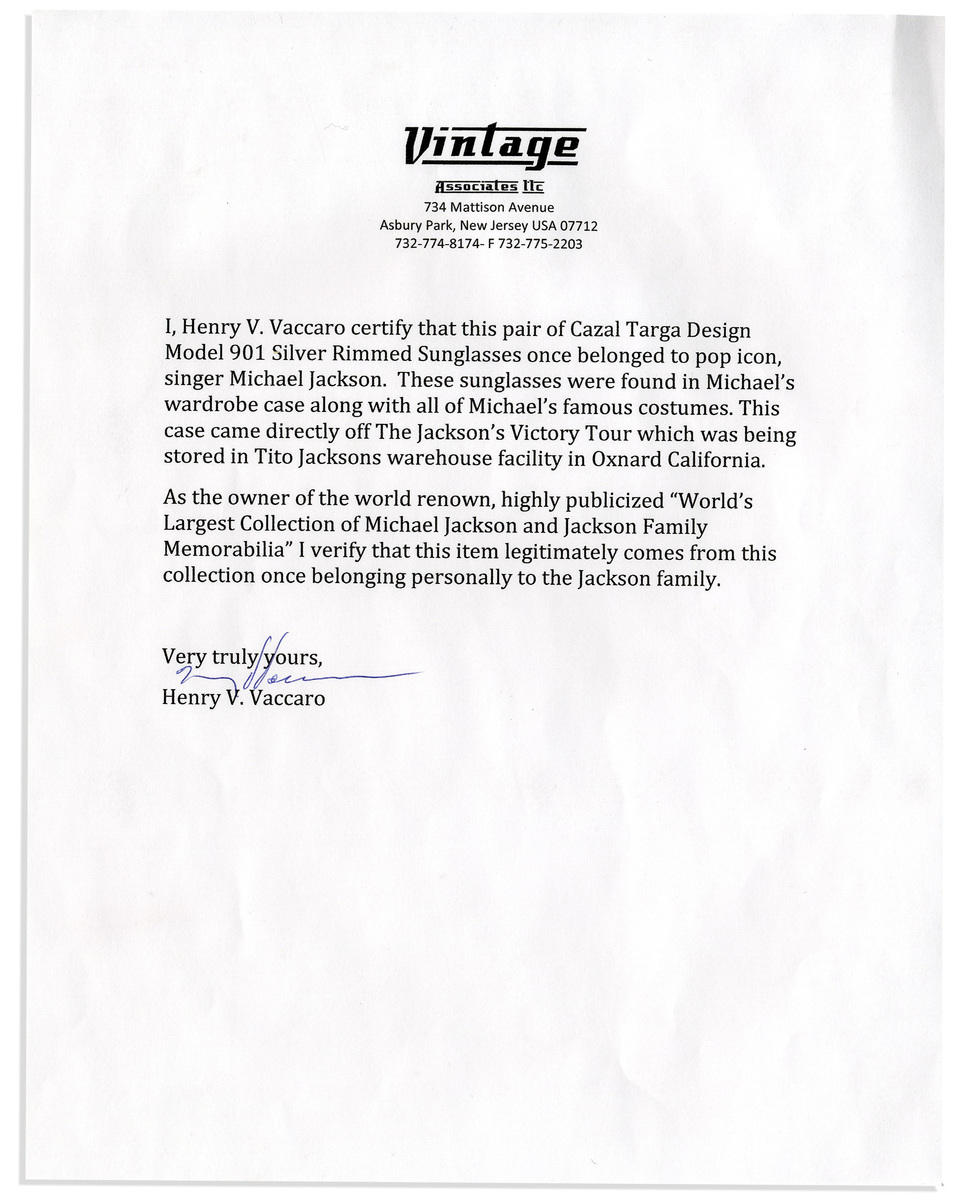 Quelle:
http://natedsanders.com/Stage_Costume_W ... 40211.aspx