August 2016 Auction Ends Thursday, August 25th, 5pm Pacific
Lot #6:
Michael Jackson's Very Own RIAA Gold Record for ''Thriller'' -- The Greatest Selling Album of All Time, From the Guernsey's 2007 Sale of Michael Jackson Memorabilia
Michael Jackson's personal RIAA gold record award for his epochal album ''Thriller''. As the greatest selling record of all time, ''Thriller'' would ultimately attain RIAA diamond status, but its certification as gold on 31 January 1983 would be the first glimmer into the album's rapidly growing success. Not only is the album considered a modern classic with hits including ''Wanna Be Startin' Somethin''', ''Thriller'', ''Beat It'' and ''Billie Jean'', it's believed to have paved the way for 1980s black music artists such as Prince, and launched the era of modern music. 17'' x 21'' frame includes gold album and tape, cover art and the RIAA plaque reading, ''Presented to / Michael Jackson / to Commemorate the Sale of More Than / 500,000 Copies of the / Epic Records / Album and Cassette / 'Thriller'''. With a sticker from RIAA framer Fitzgerald Hartley Marketing on verso. This RIAA award was not the original given to Michael Jackson in 1983; it's a duplicate given to him sometime after 1990, but the only known "Thriller" gold RIAA award owned by Michael. Small mark to side of frame, not visible from front, otherwise near fine condition. Originally part of Guernsey's 2007 sale of Jackson memorabilia.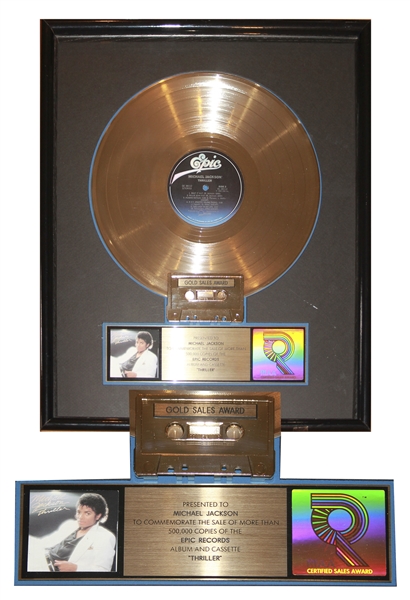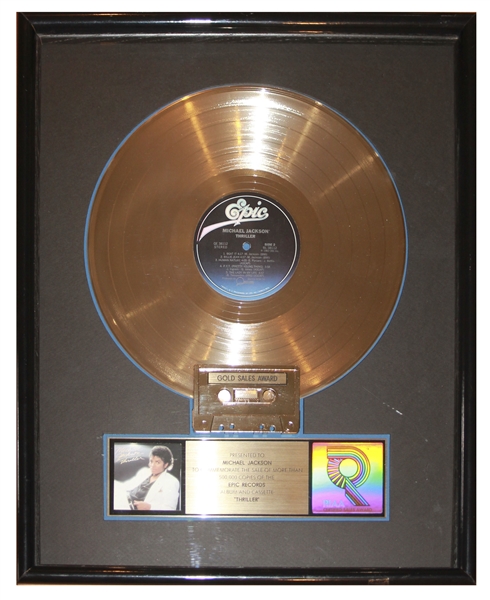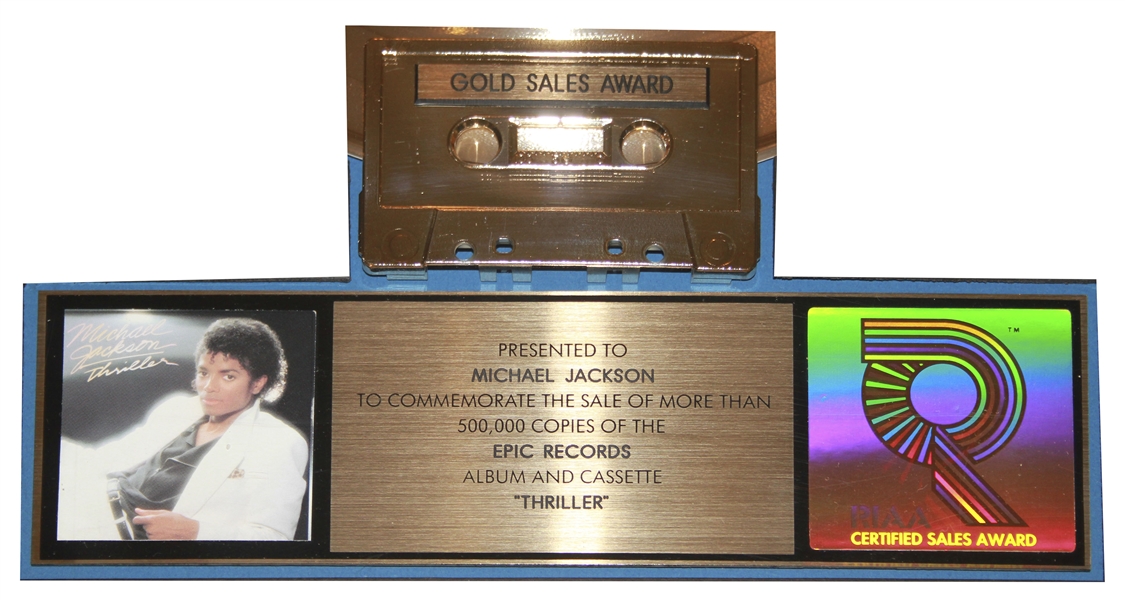 Quelle: natedsanders.com